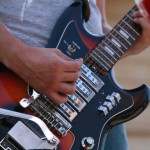 If you haven't heard of guitarist and singer, Ian Moore, then you're in for a treat.  Granted even if you have heard him, you'll still enjoy the songs I collected for you in this post.  Moore is a great player with an awesome voice and can really deliver on stage.
He performed one of my favorite versions of Freddie King's song, "Me and My Guitar," and a few other tunes he did stand out to me too.  So I went online and found some great Ian Moore performances to share with you.  I hope you enjoy them because I had a great time looking for them.
Let's hit it with a bang up front.  Ian Moore produced an album called, " Live From Austin," that has a killer version of Freddie King's song, "Me and My Guitar."  I found a video of Ian playing it fairly recently with the bonus of having one of his original tunes, "How Does It Feel" as well…
Another favorite from Moore's songbook is the song, "Satisfied."  This might have been his biggest hit to date… I've even heard it performed on shows like The Voice and American Idol.
For the last several years, Ian has been splitting his time between the blues world and the "rock" world with his band, The Lossy Coils. Having listened to a lot of their music I can tell you there are many elements of many styles in the stew and taking some time to dig in for yourself is always worthwhile.
But here's a clip from Ian's other side that really showcases what a great songwriter he really is
Ian Moore has a lot more videos online, so keeping on listening.  As always, it's been a pleasure getting these videos for you.  I really you enjoyed them too!