Discover The Secrets Most Guitar Players Will Never Know About Playing The Blues...
Sign Up Here For Your Free Blues Guitar Unleashed Newsletter
Enter your email to get "The 4 Note Solo." You'll get the video, the TAB, and the backing track to jam along with. The only way to get this is to enter your email below.
**Please double-check that your email address is correct or. you won't be able to get all the free lessons. I take your privacy very seriously - your information is NEVER shared.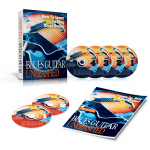 For advanced beginning to intermediate level blues players ready to be able to play with any band or group at any time and feel right at home there's the original#1 selling blues guitar course Blues Guitar Unleashed.
For the absolute beginning guitar player who wants to play blues and doesn't want to sit through "Row, Row, Row Your Boat" and feel like a 10 year old there's Beginning Blues Guitar.
And for the acoustic blues lover at an advanced beginning to intermediate level there is Acoustic Blues Guitar Unleashed.
For more of the premium courses I offer visit the Course Catalog page.