So… I hope you'll indulge me a little because I had one of the best days of my life yesterday and I'd love to share the story…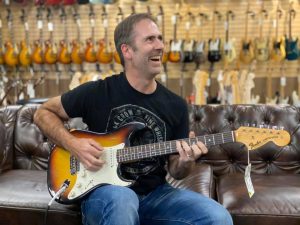 It started last weekend… I had a completely open Saturday – no gig, Laura, my wife, was out of town with our son in Texas, and Griffith, our youngest, was playing in the All State Band almost 300 miles away.
I wasn't sure what to do with myself, so I decided to do a little guitar safari up to LA, Hollywood, and "the valley." As it turned out, my buddy Dave (Amato, guitar player in REO Speedwagon currently) was in town between tours and said he would meet at Norman's Rare Guitars in Tarzana.
Now, Norman's is pretty famous, but I'd never been there. Dave, however, has been shopping there for about 30 years, and knows Norm well. That meant we got to see the good stuff that doesn't live out on the showroom floor…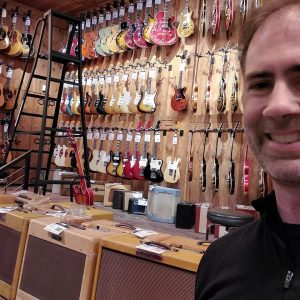 But before I went there, I had to stop at the Guitar Center on Sunset and check out their new "Vintage Room…"
It's… pretty epic, I have to admit. There are gobs of Les Pauls, 335s, Strats, PRS Guitars… loads of vintage Fender Tweed, Blackface, Brownface, Marshalls, Orange, Vox… you name it, if it's old and worth something, they've got it!
Admittedly, though, nothing really caught my attention, and I really wasn't shopping, I had no intention of buying anything (which has never stopped me before…)
So from there I made the trek through Hollywood and beyond to Norman's Rare Guitars.
I had beat Dave there by maybe 15 minutes so I just looked around…
I picked up a couple of old Les Pauls (like, 1980's old, not super vintage) and Strats…
There was a Lonnie Mack Gibson V that was cool, with the Bigsby on it… but then, I saw something in sunburst hiding back behind some other Strats on a stand…
It was a 1969 Sunburst Strat, all original except that the frets had been replaced. It played like a dream, and even before I plugged it in I could feel the notes just singing as they resonated.
It made me a little nervous, to be honest.
Luckily Dave showed up and gave me a chance to put the guitar down for a few minutes and talk with him and catch up… but since Dave was there, Norm decided to bring out something from "the back…"
It was a 1957 Goldtop Les Paul, all original… AMAZING instrument!
After Dave played on it he handed it to me, and I can honestly say I've never held a guitar worth over 6 figures in my hands before… it was a little scary, I think I spent more time worrying that I would drop it than actually playing it.
From there Dave and I left, and had lunch and did some other stuff throughout the day… but I kept thinking about that Strat and how amazing it played and sounded to me…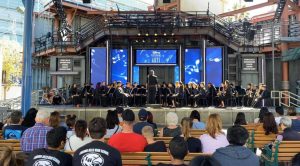 Fast forward now to yesterday… my youngest son was at Disneyland doing a concert. It's through a great program that Disney has that brings in school bands and they get to perform, all my kids have done it.
Well, after they perform, they spend the day in the park… so Laura and I had the whole afternoon free until well into the evening…
And if you can believe it, we made our way back up to Norman's Rare Guitars!
While we were there, I got to talking with Norman and, lo and behold, Tim Pierce walks in! I'd never met him face to face, but we have many mutual friends…
So I introduced myself and we talked for about a half and hour, and then Norm had me sit and do a video for their YouTube channel with my new guitar 🙂
Just an amazing day… any day with a new guitar in it is a special day, but getting to spend it with my family and get to meet some great people made it priceless.
Guess it's time to get back in the studio and make some new videos so you can see it in action!