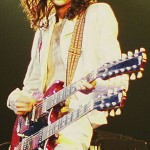 Today's post is about the great guitarist, Jimmy Page.  I'm certain that with as many Page fans as there are out there, you could probably teach me a thing or two about him, but nonetheless, it was fun getting some info about him.  I was able to find a good biography about Page, some great quotes from him over the years, a blues scale lesson, and some of his memorable video performances.  Enjoy!
The first article is a biography about Jimmy Page from Guitar International.  It's a good read filled a lot of cool information about Page growing up into the music industry.  Check it out here at http://guitarinternational.com/2011/06/14/guitar-heroes-jimmy-page/?utm_source=feedburner&utm_medium=feed&utm_campaign=Feed%3A+GuitarInternationalMagazine+%28Guitar+International+Magazine%29.
Jimmy Page is one of rock 'n' roll's most influential guitarists, and over the years has become a household name even in households without music fans. He has earned countless accolades and awards throughout his monumental career with Led Zeppelin, his time with the Yardbirds and The Firm, and as a session musician, but has maintained his humility and dedication to the music above all else.

Upbringing

Born in 1944 to James Page, an industrial personnel manager, and Patricia Page, a doctor's secretary, in Heston, a London suburb, Jimmy Page didn't take long to get into music. By the age of twelve, he was already plucking away at the six strings.

Like many guitar heroes, Page's introduction to the guitar was serendipitous. When his family moved from Feltham to Epsom in Surrey, there was mysteriously a guitar in the house. They didn't know if the previous occupants left it or if it was a family friend's, but either way, Page attacked it.

Jimmy was mostly self-taught, learning how to play by imitating records, although he did take a few lessons, and a friend at school taught him a couple of chords when he was first starting out. His main influences at this early stage were James Burton and Scotty Moore, who were rockabilly guitarists he heard when they were backing up Elvis Presley on recordings.

Early Musical Career

In only three years, Jimmy abandoned school plans of biological research in favor of a future in music, joining singer Neil Christian's band The Crusaders. Page stayed with that band for two years, appearing on several records, including the single, "The Road to Love" in 1962. The Crusaders also toured constantly, and that took a toll on his health.

Eventually, Jimmy got tired of getting glandular fever "every three months," so he quit The Crusaders and decided to go to Sutton Art College in Surrey for painting. The idea was to give his body a rest from the rigors of touring for eighteen months or so, but he continued to play guitar. Page would go to the Marquee Club and jam with various bands and talented musicians, including future guitar icons Eric Clapton and Jeff Beck. Page was spotted on stage at the Marquee one night and was asked by to record a couple of singles for the Columbian Graphophone Company, a gig which led to his first steady work as a session musician for Mike Leander of Decca Records.

As a session player, Jimmy Page ended up contributing to a huge number of very successful singles, from Johnny Hallyday to the Who. Nicknamed "Little Jim" because the other popular session guitarist in the area was "Big" Jim Sullivan, he contributed guitar work to The Kinks' first album, The Who's "I Can't Explain," Rolling Stone's "Heart of Stone," Van Morrison & Them's "Baby Please Don't Go," and five songs from Joe Cocker's sensational debut album With a Little Help from My Friends.

Page has said that his time as a session player was incredibly valuable. "At one point I was playing at least three sessions a day, six days a week!" he said in an interview with Guitar Player magazine. "The studio discipline was great. They'd just count the song off, and you couldn't make any mistakes."

The Yardbirds

Members of the Yardbirds had to ask Jimmy Page to join three times before he accepted. The first time he declined because he would have been supplanting his friend Eric Clapton, and the second time, Jimmy was making too much money as a session player to give that up, so he suggested they try Jeff Beck. The third time, however, bassist Paul Samewll-Smith quit the band and Page volunteered to fill in on bass.

Eventually, Chris Dreja moved to bass and Jimmy picked up his guitar, playing lead with Beck. This premature "supergroup" only lasted a few months, however, as Jeff Beck left the group in late 1966. Page stayed with the Yardbirds for their next album, Little Games, which sounded a bit tame and commercial and didn't break past No. 80 on the the Billboard Charts.

Despite the limited success of Little Games, The Yardbirds' live shows were picking up steam and going some interesting places, drifting away from the commerciality of their recordings. Fueled by a heavier sound and some improvisational elements, Jimmy honed a variety of musical and sonic ideas that would eventually become staples of that signature Led Zeppelin/Jimmy Page sound.

Led Zeppelin Era

Led Zeppelin came from a very specific idea in Page's mind. "I wanted Zeppelin to be a marriage of blues, hard rock and acoustic music, topped with heavy choruses," Jimmy once said in an interview, "a combination that had never been done before. Lots of light and shade in the music."

A crucial element needed for this idea was a group of virtuosic musicians that gelled well as a group. He knew from his time with the Yardbirds and other groups that groups could be filled with talented musicians but never really click, so Page set about recruiting a group that he thought would work well as a unit. "The New Yardbirds," as they were first called, consisted of vocalist Robert Plant, drummer John Bonham and bassist John Paul Jones, with Jimmy on guitar. This now-legendary lineup of Led Zeppelin never changed, unlike the lineups of so many other classic rock 'n' roll bands.

Led Zeppelin, who got their name from a Kieth Moon joke about a former group of Jimmy's going over like a "lead zeppelin," released eight studio albums during their twelve-year career (1968-1980) and one after their break-up. Taking full responsibility for the sound of Led Zeppelin's records, Jimmy Page produced every single one of these albums.

This period is another where Page's earlier session work really came in handy. While he was recording three sessions a day, he learned a lot about how recordings should NOT be made. Many of the guitar amplifiers were recorded with microphones right in front, resulting in a less-than-desirable sound quality. Jimmy also learned that recording drums in tight rooms made them sound like "cardboard boxes."

Taking these experiences, Page experimented constantly with mic placement and different room shapes for recording. He would often mic an amp up close, but also place one as far as twenty feet away to capture the ambient sound, which helped give Zeppelin recordings a quality of depth lacking in other bands' records. A famous example of Page's experimentation are the drums on "When the Levee Breaks" from Led Zeppelin IV. The drum set was infamously placed at the bottom of a staircase, and were recorded by placing microphones at the top of the stairs to create a unique echo effect.

Jimmy Page's career with Led Zeppelin was cut short in 1980 when drummer John Bonham passed away at Jimmy's house in Berkshire. Page was so traumatized by the event he couldn't touch a guitar for months after his close friend's death. The remaining members refused to work on any musical project called "Led Zeppelin" since then, except in 2007 where they reunited for one concert, the Ahmet Ertegün Tribute Concert, which raised money for the Ahmet Ertegün Education Fund. John Bonham's son, Jason Bonham, played drums for that performance.

Post-Zeppelin Career

Page, never one to sit on his hands, has kept them busy in the years following. He has appeared in various charity concerts and events, including the Action Research for Multiple Sclerosis series of charity concerts in 1983, Live Aid (with the remaining Zeppelin members) in 1985, and a Nordoff-Robbins Music Therapy Centre concert with Robert Plant in 1990.

In the mid-1980′s, Jimmy played with Paul Rodgers (Free, Bad Company), Chris Slad (Uriah Heep, Manfred Mann's Earth Band) and Tony Franklin (Roy Harper) in the supergroup The Firm. That project lasted for two studio albums, 1985′s The Firm and 1986′s Mean Business.

Page has also performed with many other musicians throughout the years after Zeppelin. He added guitar work to albums by Steve Winwood, Roy Harper, Graham Nash, Stephen Stills, and the Rolling Stones, and also worked on the soundtracks to Charles Bronson films Deathwish II and Deathwish 3.

Lately, Page appeared in the documentary It Might Get Loud, which featured the aging rocker dispensing wisdom and heavy riffs while jamming with guitar icons Jack White and The Edge. He also represented Britain for the closing ceremonies of the 2008 Olympics in Beijing, performing "Whole Lotta Love" with Leona Lewis to symbolize the change of location for the 2012 Olympics to London.

Legacy

Page is at or near the top of nearly every "Greatest Guitarist" list, including lists by Rolling Stone (#2), Mojo Magazine (#7), Classic Rock Magazine (#4), Total Guitar (#2), Time Magazine (#6) and Gibson Guitars (#2), and his solo in the famous "Stairway to Heaven" has been consistently voted "Best Guitar Solo Of All Time," but those rankings can't quantify the incredible influence he had on the direction of rock music.

Jimmy Page has the unique distinction of being almost universally lauded as one of rock music's greatest guitarists, producers, and composers. His work with the Yardbirds and especially Led Zeppelin has made him one of the most influential guitarists and songwriters in the history of rock music, with Angus Young, Slash, Alex Lifeson, Ace Frehley, Joe Satriani, John Frusciante, Tony Iommi, Joe Perry, and many other now-iconic guitarists counting him as a major influence.

As anyone can see, these players, who count Jimmy as a key influence, are now themselves legends in the world of rock music, spreading Page's music from what began as a mysterious old guitar in the corner of a new house in Surrey to fans of almost every genre of music out there. And we can only hope he'll make some more.

Equipment

Electric Guitars

1959 Fender Telecaster, (given to Jimmy by Jeff Beck, painted with a psychedelic dragon design by Page)
1959 Gibson Les Paul Standard (No. 1 of a 26 guitar run of custom guitars by Gibson)
1959 Gibson Les Paul Standard (No. 2 of that same run of guitars, with some modifications)
1971 Gibson EDS-1275 (his famous double-necked guitar, with one neck a 12-string guitar and the other a normal 6)
1978 Gibson Les Paul Standard.
1959 Danelectro 59-DC (usually tuned to DADGAD).
Danelectro 3021 (tuned to open G)
1967 Vox 12-String
1960 Black Gibson Les Paul Custom with a Bigsby Tremolo (stolen from Page in 1970)
Rickenbacker 12 String.
1969 Gibson Les Paul Standard (outfitted with a Parsons and White B-string bender)
1964 Lake Placid Blue Fender Stratocaster
1966 Cream Fender Telecaster
1953 Brown Fender Telecaster (also with a Parsons and White B-string bender, neck salvaged from the "Dragon Telecaster")
1965 Fender Electric XII 12-String (used to record "Stairway to Heaven")
1977 Gibson RD Artist

Acoustic Guitars

Gibson J-200
Martin D-28
Gibson Everly Brothers
Giannini GWSCRA12-P Craviola 12-String
Eko Ranger 12
Ovation 1994 Double Neck
Harmony Sovereign H-1260
Washburn 12 String
Fender 1981 F-03

Amplifiers

Marshall SLP-1959 100-watt amp (modded with KT-88 tubes, output boost up to 200 watts)
Vox AC30
Hiwatt Custom 50 and 100 heads
Fender Dual Showman
Fender Tone Master
Orange amps (used when Page played Theremin)
Petersburg amps

Effects Pedals

Sola Sound Tonebender fuzz
Roger Mayer Voodoo Fuzz
Vox wah-wah
Jen Cry-Baby Wah
Maestro Echoplex
MXR Phase 90
MXR Blue Box (used for the guitar solo in "Fool In The Rain")
Boss CE-2 Chorus
Boss SD-1 Super Overdrive
DigiTech Whammypedal
Yamaha CH-10Mk 2 Chorus
The next article comes from Gibson Lifestyle and features several quotes from interviews with Page in his long career.  Check them out at http://www.gibson.com/en-us/Lifestyle/Features/jimmy-page-0207-2011/.
Comb the annals of Jimmy Page interviews and you'll find that the notoriously elusive Led Zeppelin guitarist has a pretty cool take on the world. The 67-year-old first picked up a guitar at age 12 and has been at work on it ever since, playing high-profile session work for The Who, The Kinks and Van Morrison, among others, before joining the seminal London group, The Yardbirds.

Of course, Page's biggest imprint was made in Led Zeppelin from 1968 to 1980. Equipped with Gibsons, ranging from the Les Paul Standard to the Doubleneck EDS-1275 to the J-200, Page picked, strummed and shredded his way into the ranks of the world's best and most influential guitarists.

Led Zeppelin's supernatural chemistry ended abruptly when, traumatized by the death of drummer John Bonham, the band disbanded more than 30 years ago. But that hasn't stopped Page from continuing on with his music or prevented Led Zeppelin fans from holding out hope for a legitimate reunion. What does Page have to say about the chances of that? Read on for his take on a Led Zeppelin reunion and other insights.

On a guitarist's style, as told to Guitar World in 2006

"I believe every guitar player inherently has something unique about their playing. They just have to identify what makes them different and develop it."

On being an only child, as told to Rolling Stone in 1975

"That early isolation, it probably had a lot to do with the way I turned out. A loner. A lot of people can't be on their own. They get frightened. Isolation doesn't bother me at all. It gives me a sense of security."

On paying his dues, as told to Guitar World in 1993

"My session work was invaluable. At one point, I was playing at least three sessions a day, six days a week. And I rarely ever knew in advance what I was going to be playing. But I learned things even on my worst sessions — and believe me, I played on some horrendous things. I finally called it quits after I started getting calls to do [elevator music]. I decided I couldn't live that life anymore; it was getting too silly. I guess it was destiny that, a week after I quit doing sessions, Paul Samwell-Smith left The Yardbirds, and I was able to take his place. But being a session musician was good fun in the beginning — the studio discipline was great. They'd just count the song off, and you couldn't make any mistakes."

On forming the concept for Zeppelin, as told to Guitar World in 1993

"I had a lot of ideas from my days with The Yardbirds. The Yardbirds allowed me to improvise a lot in live performance, and I started building a textbook of ideas that I eventually used in Zeppelin. In addition to those ideas, I wanted to add acoustic textures. Ultimately, I wanted Zeppelin to be a marriage of blues, hard rock and acoustic music topped with heavy choruses — a combination that had never been done before. Lots of light and shade in the music."

On his fingerpicking style, as told in Conversations with Forty Great Guitar Players in 1992

"My fingerpicking is sort of a cross between Pete Seeger, Earl Scruggs and total incompetence."

On what made his band work, as told to People in 1975

"The actual chemistry — or is it alchemy — of the group is that everything just always fits together. I can go roaring off on a solo, then suddenly break off into staccato. I look up at Robert [Plant] and somehow we're all there. It's like ESP."

On the accoutrements of fame, as told to Rolling Stone in 1975

"I love playing. If it was down to just that, it would be utopia. But it's not. It's airplanes, hotel rooms, limousines and armed guards standing outside rooms. I don't get off on that part of it all. But it's the price I'm willing to pay to get out and play."

On his approach to love, as told to People in 1975

"Let's just say I'm like a ship passing through storms, resting in ports now and then until it's time to continue the journey. I once told a friend, 'I'm just looking for an angel with a broken wing' — one that couldn't fly away."

 On the wild world of rock and roll, as told to Guitar World in 2006

"Everybody has dark and light in them, and evil is just a relative idea. Many ideas regarding sex and drugs that were considered taboo in the '50s are accepted now. Who's to say what's right and what's wrong? In another 50 years, it'll all be topsy-turvy anyway. It's just the way people view a collective consciousness at any given time."

On hopes for a Led Zeppelin reunion, as told to The Sunday Times in 2010

"At the time of the run-up and rehearsals towards the [O2] show, I think we assumed that there were going to be more dates. It would have been nice to have played more concerts. But, even while I was going 'round doing Christmas shopping, people were still coming up and saying, 'Is there a chance of a reunion?' I don't have any real answer, apart from that it doesn't look like it."
Jimmy Page admits that he hasn't had formal training on the guitar, so his scale theory is fairly limited.  Page does have a very unique sound though, due to an interesting extended blues scale that he uses often.  Guitar International took a closer look at the Jimmy Page extended blues scale here at http://guitarinternational.com/2011/12/02/how-to-play-the-jimmy-page-extended-blues-scale/?utm_source=feedburner&utm_medium=feed&utm_campaign=Feed%3A+GuitarInternationalMagazine+%28Guitar+International+Magazine%29.
There's no doubt that Jimmy Page is one of the most legendary players in rock guitar history. Mixing blues, rock, folk and world music together, Page created a signature sound that is still instantly recognizable to this day. Though many of his solos are tough to get down, due to his lightening fast runs that permeate many of his classic riffs, there are certain concepts and approaches that you can work on in order to get some of that Page magic into your solos, without spending hours in the practice room working out his toughest licks.

One of the cool concepts that Page liked to use was the Extended Blues Scale. This scale allowed him to cover a large range across the fignerboard, while using a "symmetrical" fingering for every set of two strings (more on this below). Now, Page didn't use this fingering for every solo, sometimes he just stuck to the first position blues/pentatonic scale we all know and love, but when he wanted to really rip he often dug into this fingering, or at least portions of it, and came up with some of the most timeless riffs in rock history.

In this article we'll check out bit of theory background on the blues scale, then review or learn three common positions of the blues scale, before finally combining these three fingerings to form the Jimmy Page Extended Blues Scale.

So, grab your favorite axe, crank your amp to 11 and let's dig in!

What is a Blues Scale?

A Blues Scale is just a variation on the 5-note Pentatonic Scale that most, if not all, rock and blues guitarists check out when first learning how to solo on the guitar. Basically, a Blues Scale is a Pentatonic Scale with an added b5, the "blues note," as it is often referred to.

Here's how a Pentatonic Scale looks first, then we'll spice it up with the blues note.

Root-m3-P4-P5-m7 or A-C-D-E-G in the key of A

And, when we add in a b5 we get the Blues Scale.

Root-m4-P4-D5-P5-m7 or A-C-D-D#-E-G in the key of A

It's that simple, but man does that extra blues note sound great! Now that we've reviewed a bit of the theory behind this scale, let's check out some common fingerings that we'll use to combine in order to build the Jimmy Page Blues Scale in the final example.

Blues Scale Fingerings

Let's first take a look at the basic, position 1 Blues Scale in they key of A minor. This is usually the first scale guitarists learn when they start to explore lead playing, so it might be review for some of you. If it is new, take some time to really work out this fingering, it is one of the most common and important scale fingerings for rock and blues guitarists to have down.

Now that you have reviewed, or learned, the first position of the Blues Scale, we'll take a look at the position that falls right before it on the neck, often called Position 5 of the related Pentatonic Scale.

Just a little side-note, for fingering purposes, we don't really see any fingerings starting on the "blues note" in the Blues Scale, the b5. Instead, you have five different positions of this scale, one for the five notes of the Pentatonic Scale that it is derived from. So, when working out the other fingerings of this scale, in A minor, you would have a fingering starting on A (root), C (m3), D (4th), E (5th) and G (m7), giving you five different ways to play this scale.

Here is the fifth position of the Blues Scale in the key of A minor, starting on the note G. Notice how the second note of this fingering, A, is the first note of the first position. This is a good way to start to see how these fingerings link together, and will help you when we start to combine positions to form the Jimmy Page Extended Blues Scale.

We're now ready to look at the last fingering that wee need to build the Jimmy Page Scale, the second position of the Blues Scale. In the key of A minor, this scale will start on the note C, the second note of the underlying Pentatonic Scale. You can now see how these three scales are starting to fit together. You have position five, which is then followed by position one and finished off with position two, combining to cover a good chunk of the neck of the guitar when these three positions are pulled together.

The Jimmy Page Extended Blues Scale

With the three different positions of the blues scale, 5-1-2, under your fingers, you can now combine sections of these scales to form the Jimmy Page Extended Blues Scale. The cool thing about this fingering is that, not only do you cover a large part of the neck with these notes, but the fingering is symmetrical. This means, that every group of 2 strings has the same fingering.

On the first six notes, bottom two strings, you use 1-3 1-1-2-3 to play the notes on the sixth and fifth strings. Then, when you arrive on the middle two strings you repeat the same fingering on the 4th and 3rd string, and finish with the same fingering, which adds one extra note on the top to grab that juicy blues note that a lot of guys like to use in their lines.

Take your time when learning this scale. Notice how it starts in position 5 for two strings, the moves into position 1 before finishing off on position 2 on the top two strings. For an added taste of Page's soloing vocabulary, try adding slurs (hammer-ons, pull-offs and slides) as you climb up and snake your way down this fingering. Since you are using a symmetrical fingering, you can play repeated patterns up the scale with ease, just repeat what you just played using the same fingers in the next string group.

Check this scale out in your practice room, then bring it to your soloing in a jam session or your next gig. With a little practice, you can really fly through this scale, adding that Jimmy Page flash to your solos that he became legendary for while helping you break out of the traditional pentatonic/blues scale boxes that we all know and love.
Now I know this isn't a video of Page playing in 1972, but this next video offers great sound and video quality and Page playing over Led Zeppelin's classic blues song, "Since I've Been Loving You."  Check it out here at http://www.youtube.com/watch?v=wZEwimJ3GZE&feature=related.
[youtube_sc url="http://youtu.be/wZEwimJ3GZE" width="420″ rel="0″]
And the last video is a cool interview with Jimmy Page about his Les Paul.  I always enjoy hearing about gear from the guys that play it and I think you will too.  See it here at http://www.youtube.com/watch?v=uoBs3vyI3Q0&feature=related.
[youtube_sc url="http://youtu.be/uoBs3vyI3Q0″ width="420″ rel="0″]
I'm sure we all could add more and more content to the list about Jimmy Page, but this should be a good start for those of you interested in learning more about him.  I hope you got some good information out of all this, because I sure enjoyed collecting it for you.
Thanks,
Griff