"If You Want To Be Able To Easily Learn Cream's, 'Sunshine Of Your Love,' You'll Want To Start Here…"
You'll see how to get Clapton's Tone, how and why he chooses the notes that he chooses, and how to execute all of the techniques in this complete Song Workshop…
From: Griff Hamlin
Date: November 29, 2023
The modern internet brings to light a painful reality… it's not hard to find someone showing or giving away the TAB to, "Sunshine Of Your Love."
And, to be honest, if that's all you're looking for, you've come to the wrong place…
… because, while it's a great song, and one that my students have asked me to teach many times, just showing you where to put your fingers doesn't do much for me or for you.
But I've figured out that there is a better way – and it's a way that only exists because it's so easy to find the TAB in a book or online…
You see, in the long run, if you just learn where to put your fingers and then you go off and play that song… that's all you have – that one song.
Instead, if I show you things like:
How Clapton gets that tone on the recording, and how you can get that tone either through your tube amp, or digital modeling gear, or even just with some pedals…
The fact that the chord progression is really a 12 bar blues at it's core…
The blues scale patterns and boxes that are used, not only for the primary riff, but for the soloing as well…
How Clapton moves back and forth between the major and minor blues sounds, which boxes he uses, and why…
How to execute the killer full step, 1 ½ step, and even 2 step bends he uses in the solo…
Simplified options so that you can actually play along instead of trying to keep up…
Optional solos that you can adapt to your current skill level… but they still sound very much in the spirit of the original…
Then all of a sudden you're using this song as a vehicle to actually get better – and not just as a song to play.
More importantly, you can then figure out how to play the song using your own ear, and you'll find the errors in the online TABS (because there will be many) because you know what to listen for and what to expect.
So if that sounds good to you, let me show you…
Exactly What You're Getting
The Sunshine Of Your Love Song Workshop is a set of recordings from a live, 4 week long interactive workshop I did with about 120 students…
We "met" each week in a virtual chat room where I walked them through the material, then they could go off and try it on their own.
Each week I was able to hear their progress and make sure that what I was presenting was working... and overwhelmingly, it worked!
In fact, I got so much great feedback on the workshop, and since it happened I've had so many people ask for access to the recordings – that I had to put it all together.
So what you'll see when you get this Song Workshop is:
About 2 hours worth of video instruction
A Jam Track to practice along with
A Solo Jam Track where just the solo section repeats 5 times so you can play the solo over and over without having to restart the track
A complete, simplified solo example that you can play right out of the box and sound very much in the spirit of the original recording
Modifications to a few of the licks from the simple soloing example that are a little more difficult and will get you even closer to the original recording.
You'll also get access to the Q&A sections, where students in the live room would ask questions and get answers – in all likelihood you may have some of those same questions so these sessions are extremely valuable.
And while you can't still ask questions live, you can always ask any questions you have about playing this song in the Blues Guitar Unleashed Member Forum.
So Here's What To Do Next
This "Sunshine Of Your Love" Song Workshop is just $29 and you can download it to your computer or stream it from the secure Member Portal…
If you'd like me to print on the manual and send it to you, there's an option for that, and if you'd like the course on DVD there is an option for that too. They are a few dollars more plus shipping (and tax in some cases.)
All you have to do is click the "Add To Cart" button below that fits your preferred delivery method and you'll be off and rolling (and, of course, you get the digital version to start right away even if you choose the DVDs.)
100%
90 Day 100% Satisfaction Guarantee
As always, with your purchase of the "Sunshine Of Your Love Workshop" you get my iron-clad, 90 day guarantee. If you don't love this Song Workshop, just let us know and you'll get a full refund, no questions asked…
… and you don't even have to send it back!
To get your complete copy of Sunshine Of Your Love Workshop just click the yellow "Add To Cart" button below with your preferred delivery method. Just as soon as your order is complete you will receive an email with your access instructions to the secure Member Portal so you can be creating exciting new blues solos in just a few minutes from now!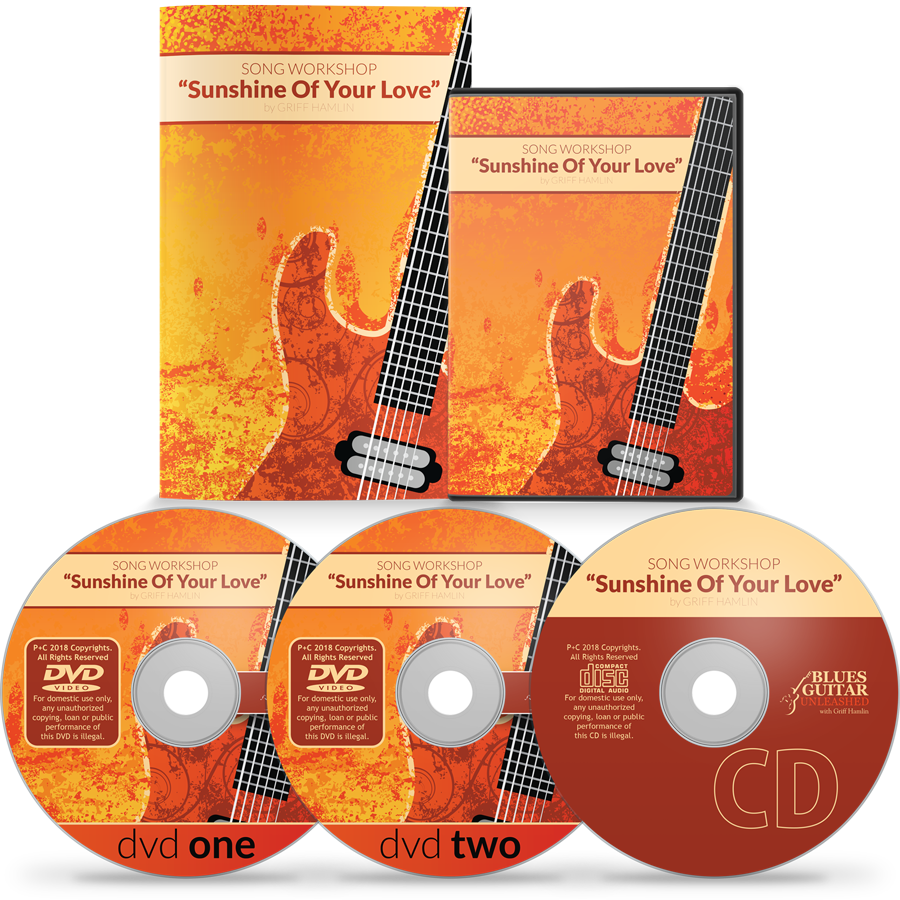 This is a one time payment, NOT a subscription. 3 Payment option may be available at checkout.
PS – If you're a scroller, here's the scoop…
I made this great workshop to help you learn the song, "Sunshine Of Your Love," by Cream. It doesn't have the TAB note-for-note (you can easily find that) but instead walks you through how to get Clapton's tone, what he's thinking in the riffs, chords, and solos, and gives you some options for ways to play that are simpler in case the original is too difficult.
It's about 2 hours of video plus some jam tracks, and you can have it for just $29, or a little more if you want a printed manual and DVDs.
Plus, you have my 90 day guarantee, if you don't love it just let us know and you get a refund – and you don't even have to send it back.
Cool? I thought you'd dig that – get yours here.