"Would You Like To

'Ethically Steal'

The Formula To World Class Blues Soloing Without Having To Spend Months Or Years In The Woodshed?"
By following my "3 Blues Rules" formula you can be playing impressive blues solos that not only don't have any wrong notes... but actually command attention and sound right on the money every time. All without playing a million notes, without learning a bunch of exotic scales or fingering patterns, and without a master's degree in music theory…
Imagine this scenario...
What if you were suddenly able to sit in and solo with any blues band in the world and sound like a seasoned pro?
What if, instead of being afraid to take a solo, you couldn't hardly wait until it was your turn?
What if every solo you ever played sounded "Just Right!" instead of just "not wrong."
Sound like a stretch?
I used to thing so too, until it happened to me.
So read on and I'll tell you about the simple 3 Step Formula I discovered that made it possible...
Before we continue let's get one thing very clear...
This isn't some sort of magic pill that you take and wake up a professional blues player.
And you know by now that I'm not the kind of guy that's going to promise you success without even picking up your guitar. This formula is working great for my students who are using it and I'm sure it can help you too.
Why Have Rules For Blues Soloing?
Before I tell you the rules, you have to know that I didn't make these rules up – in fact, no one did…
You see, when it comes to making up rules about music (which I know might sound a little silly,) you almost have to go back hundreds of years to the time of the great classical composers.
Back then, musical geniuses like Bach, Mozart, Beethoven, and many others, composed incredible pieces of music that have withstood the test of time for literally hundreds of years…
And it was only after their music was complete and loved by the world that music theory scholars would analyze and make rules from what these composers did…
But why?
Why would anyone want to analyze and make rules from something as artistic as music?
The answer is actually really simple…
By noticing what worked and how, scholars were able to write books for the next generation of composers so they would not have to reinvent the wheel!
In other words, composers and musicians knew that by following the rules, they were guaranteed to sound good instead of just playing stuff and hoping it sounded OK.
And that's all great, you might say...
But how does it apply to you and blues guitar?
Well, wouldn't it be great to just know what is going to sound cool before you even picked up your guitar?
And wouldn't it be great to take a huge shortcut and just get the good stuff instead of always flying blind?
Now granted, you don't HAVE to follow these rules to sound good...
There are certainly situations where the rules are broken and it sounds great…
…just like the composers who came after the great classical composers that took risks and created new amazing sounds.
But they did that standing on the shoulders of those greats who came before them…
many of them studied those rules and used them extensively before trying to break them.
Even today, if you read interviews with modern blues players who are pushing the envelope, they all tip their hat to the greats –
BB King, Albert King, Freddie King, Muddy Waters, Buddy Guy… the list goes on and on.
There must be a very good reason for that…
Who wants to go and re-invent the wheel?
Sure you can go out and learn 20 solos from BB King and you might start to get an idea of how he does things…
Then you can go out and learn 20 solos from Albert King… then Freddie King… then Muddy Waters… then Hendrix…
Yes, that's one way to do it, but how long will that take?
Exactly What You'll Be Getting
Killer Blues Solos Made Easy  is not like any other blues soloing course you might already have. There's almost no theory, we won't spend a bunch of time on scales, and you won't have to decode any musical hieroglyphics to understand it. This is straight-up "how you do it!"
1

A Textbook Plug-N-Play Solo

Instead of you having to take a pile of licks and techniques and come up with something, I've done it for you. This solo utilizes every rule perfectly and you can simply plug it in any time and sound like a seasoned professional.

2

Blues Lead Techniques

In part 1 you'll get all the basic lead techniques in case you are a little rusty, haven't ever tried to play lead before, or simply haven't really nailed those bends or pull-offs just yet. This part will build your confidence and make sure you are nailing the sounds of the blues right so you will really sound like a pro and not a hack.

3

The 3 Blues Rules Explained

The "3 Blues Rules" are actually simple - never start a lick on beat 1, hit a chord tone on the 3 magic chord changes in a blues, and use the major blues sound over the I chord while you keep to minor over the IV and V chords. In this section we'll break down the solo example into each individual lick and you'll see exactly how and why each and every note was chosen and placed where it was. When it's over you will never hear or play blues the same way again.

4

Complete Video, Audio, and TABs

Playing the blues needs all your senses... you need to watch me do it, you need to listen to the sound and you need to be able to look at each note an make sure you know right where it is on your guitar. You'll get over 90 minutes of video, audio versions of me playing the solo both at full and slow speeds for practice, and a jam track without my playing on it so you can check your skills with a live band (and yes, it is a live band... mine!) Nothing is left out and I guarantee you won't get lost (more on that later.)

5

Full Access To The Member Community

One of best "perks" of purchasing any of my courses (even at a steal) is membership to the Blues Guitar Unleashed member forum. There are over 6500 active members currently and of all the forums I am active on (probably a dozen or more) this one is the best and I'm there almost every day. If you have ANY questions or issues I can promise that help is just a few keystrokes away. And you'll make some friends for life!

6

No Fluff Or Filler To Wade Through...

As I often say to my students, "we're here for your benefit not mine... I already know how to play." In fact, when my students come out and see me really play hard on a gig they usually say something like "I didn't know you could play like that! How come you don't play like that at our lessons?" Well the answer is simple... you don't take lessons to see someone else play. It's all about you! So while it may seem like this course is "only" 90 minutes the information goes far beyond the video length.
Here's a demonstration of the solo you'll learn. It's a classic blues shuffle used in thousands of blues songs throughout history. This is totally plug and play for you, just drop it in and you'll sound like a pro.
Here's a glimpse into the technique of bending. In this video I'll cover how to play a bend and get it to sound like you mean it.
A little history of the "3 Blues Rules" along with a quick explanation of the first rule and how it applies to a lick from the solo.
Rule #3 is about using the major blues sound over the I chord and minor over the IV and V. In this video you'll get a glimpse into one of my favorite BB King style major blues licks. I hope you'll steal this one!
Please watch this video no matter what! If you learn nothing else from anything I teach you, I want you to learn about counting and how important it is to your playing.
Look What Other Guitar Players Are Saying...
Until now, I didn't realize that some of the licks I've been using for years are in "the house" pattern.  And just watching it, I've gained four or five brand new licks ... still have to practice them and put them into muscle memory, but there they are right in front of me and using a pattern I've been using for years.  Which notes to emphasize when going from the I chord to the IV chord and from the IV chord back into the I chord is another nifty piece of info.  And simply moving the "house" pattern up two frets for some great BB King stuff is brand new to me... It's a great little course and worth more than what Griff charged for it!

Jim Kubitza Blues Guitar Unleashed Member Forum
I got so much more out of it.  Just the timing piece alone has raised my awareness so much more!

Al F Blues Guitar Unleashed Forum Member
For me this course just puts the ideas together as I would have if I had been writing down the main ideas from the other courses. The cost is unbeatable. Guess my post shows that I am thrilled with this course. P.S. don't tell Griff he may want to charge us more.

Larry

Blues Guitar Unleashed Member Forum
I'm so confident that you'll love Killer Blues Solos Made Easy that I'm willing to give you a full 90 days to try it out for yourself.
If you don't love it, just let me or one of my friendly helpdesk agents know and you'll get a fast, friendly refund... no questions asked (and you don't even have to send it back!)
So Let's Wrap This Up…
Killer Blues Solos Made Easy comes in 2 flavors - shipped to you on DVD, CD, and with printed manual, or via Instant Access Digital Delivery where you will have access via the secure Member Portal within minutes of completing your order.
For the DVD version it's just $39, and for the Digital Delivery it's only $29... and you'll have immediate access.
You can also get both for the same price as the DVD alone if you are one of those people who like to have your cake and eat it too 🙂
You've got 90 days to try out the course for yourself and see what it can do for you. If at any point you aren't totally thrilled with it, just let me know and I'll give you a full refund and you don't even have to send it back.
This is one of the few times in your life when such a small investment can bring such big returns. If you are just getting started with blues soloing, or you've been trying but you still don't like what you hear then Killer Blues Solos Made Easy may very well be just the thing you've been looking for.
To get your copy of Killer Blues Solos Made Easy just click the yellow "Add To Cart" button below with your preferred delivery method. Within moments of your order being complete you will receive access instructions to the Member Portal via email. So you can be playing the blues in just a few minutes from right now!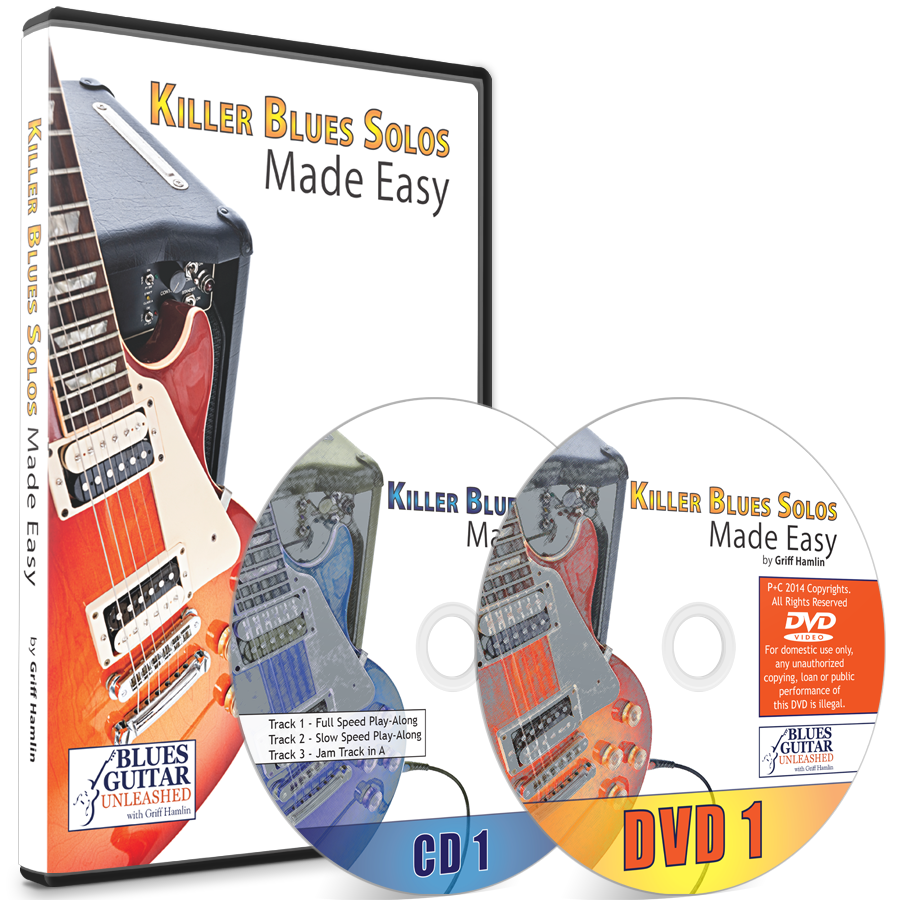 This is a one time payment, NOT a subscription. 3 Payment option may be available at checkout.