"Discover How Fun And Easy It Is To Play Blues Guitar, Even If You Don't Know A FretBoard From An Ironing Board!"
Now there's a complete, step-by-step video system that you can use to go from a complete guitar newbie to playing complete blues songs... and you'll be playing the blues from day 1...
Dear Friend and Fellow Blues Lover,
Have you always wanted to learn how to play the blues, but just haven't had a good way to get started?
If you are like many people I see in my private lessons, after the job, the family, and the household chores, taking the time to sit down and practice sounds like about as much fun as a trip to the dentist (isn't it called playing guitar after all?)
Maybe you've just pulled the guitar out of the closet it's been hiding in all these years, or maybe you just bought a new Strat yesterday. The point is all the same… you want to play the blues… not in 3 years… today!
If you really want to learn to play, you need a series of lessons that take you step-by-step from point A to point B. Start simple, and grow from there.
Imagine how great it would be if, after only a handful of easy lessons, you could actually play a blues song! Not some silly "Hot Cross Buns" or "Mary Had A Little Lamb (maybe the Buddy Guy version)," something you would be proud to show off to your family and friends.
You're about to discover a system for learning blues guitar that has been proven dozens of times over…
I don't mean to brag, but for the majority of my teaching career I've not only had as many students as I could handle, I've often had a waiting list. And I'm sure there is only one reason for that… results.
I've learned how to get people from where they are to where they want to go. I've done that through years of working with people and making systems out of what worked.
Now you can have access to the very same system that only a handful of students have had access to in the past (and some of them drive 75 miles or more each way to get it!) And the best part is, I personally guarantee your success… but more on that later.
"Those who can't do, teach… "
I realize that there are hundreds of fantastic blues guitarists out there, probably even more. And I also know that while a lot of them can play great, learning to play guitar from them is a lot like trying to decode ancient cave writings… it's just too dang hard.
I also realize that a lot of teachers out there really don't play that well… or that often. When I was growing up I was lucky enough to have teachers that not only taught, but were out there playing concerts and making records. Having that kind of experience on your side is invaluable.
Listen, I love to teach, and I love to play. I'm fortunate in that I get to do both things a lot. I get just as much thrill out of playing for 10,000 people at an outdoor concert as I do watching one of my students look at me and say "that is so cool!" when something really clicks.
Well, how much time have you spent poking around the internet looking for decent lessons? What if you had spent those hours practicing something that you knew would work? Do you think you'd be a lot better right now? You bet!
The solution is Beginning Blues Guitar.



"I Feel Like I Am Accomplishing Something"




With the Beginning Blues Guitar course, I have confidence and I can really relate to the content, and I feel like I am accomplishing something, without the frustration and apprehension. The book is great for someone new to the guitar (and music). I am already deep into the course, and I feel , when I have completed it, it will give me the knowledge and experience to progress




- Joe Wilkie - Oklahoma City, OK



"Absolutely The Way To Go…" When I heard that Griff had put together a beginner's course, I jumped at the chance to get it. I was not disappointed.

For true beginners, the early lessons will take you through your first chords and simple but cool leads, so that by lesson 7 and 8, you are playing a 12 bar blues song! By the end of the second DVD you'll be playing a basic version of Buddy Guy's (and Stevie Ray Vaughn's) Mary Had a Little Lamb.

I have to also tell you about the online forum that Griff built. It's a place where his students get together to share tips and encouragement. The students include people from beginners to professional musicians and It has become an indispensable tool for me. If you want to learn the blues, Beginning Blues Guitar is absolutely the way to go. I look forward to joining you on the forum!


Mike Santarcangelo - Allen, TX
This complete system will take you from Absolute Beginner to Respectable Blues Guitar Player over the course of 27 easy-to-follow lessons.
You'll cover everything you need to know to start playing some genuine blues guitar…
All about the parts on your guitar, electric or acoustic. You'll know what it is and how to use it to make the best sound.
The best way to hold and play the guitar so that it's easy. This is one thing that no one seems to talk about, and doing it wrong can add weeks or months to the learning process.
How to read TAB, the easiest form of music for guitar. TAB is a simple number system. If you can read numbers, you can read TAB. There is no guesswork and no crazy symbols to understand. This is how we can get you playing, not practicing, right away.
Dozens of classic and contemporary blues licks. These are the same sounds you hear in your favorite tunes by Clapton, BB King, and Muddy Waters. They are broken down into small pieces that you can play quickly and easily.
All the blues chords you'll need to know in simple diagram form. I show you on the DVD, and you have the printed manual for reference if you want it. The close-up camera angles made it a cinch to see how to play each and every one
The Grand-daddy of all blues forms, the 12 bar blues. There are thousands of songs that use this pattern, and you'll be able to play them all if you want.
Strumming made easy. Everyone makes such a big deal out of counting rhythm and playing in time. In fact, you have a built in timing mechanism if you know how to use it. You'll see how to take those rhythms and turn them into strum patterns in no time flat.
The most popular strum in the world. I've taught thousands of songs to students and this one strum comes up more than any other. And it comes up in every style of music.
How to hold your pick, and how to pick in both directions for maximum speed and consistency. This is one of the key ingredients to playing fast enough to keep up with the recordings you hear.
The most popular "blues jam" riffs. Ever want to get together with some buddies and just jam? When you get these riffs, you'll fit right in and be jamming in no time.
All the "traditional" chords. It wouldn't be fair to teach you all the blues chords and leave out the "regular" ones. You'll have every chord you need for nearly any style of music, from blues to country to rock and roll.
The secret of moveable chord shapes. Would you like to know 72 chords in a matter of minutes? It's totally possible if you know how it works. It's simple and amazing.
How to play barre chords without feeling like your hand is going to cramp. If you're trying to grip the guitar like a gorilla, you're doing it wrong. Barre chords don't take any more strength than any other chord if you know the tricks.
And tons more…



"I Was Like A Kid On Christmas Morning"




Just thought I'd drop a note to rave about your Beginner's Blues course.




I love Country music and know that the Blues are the base of Country, so I just had to have your course. I must be honest and tell you that I've purchased instrument "how-to's" before (I've probably got about $600 worth of other people's products sitting in an office box, collecting dust).




Needless to say, I was skeptical the FIRST time I ordered a different course from you and was blown away with the "down home, at your own pace, you are my equal", professional attitude.




Everything I've ever ordered from you has come in short time and high quality. I opened the packaging with great anticipation. My wife said I was like a kid on Christmas morning. (BTW: She didn't even hesitate when I said I wanted to order another product from you because she's seen your quality, too.)




Your course has enormous amounts of information that even we beginners can understand and there is absolutely no pressure to go at someone else's pace. I recommend you on my Myspace page and to anyone I meet who's interested in guitars. I wish you and yours continued success for years to come.




- Russel Barber - Southern MN
Here are some example videos from the course...
Let's start from the beginning, here is "The Sitting Easy Blues," the first tune you'll learn in the course...
We'll also cover some of the most popular strumming patterns on the planet, including this one...
Here is another one of the unaccompanied tunes that you'll learn... these are great when you just want to play for yourself or someone else and you don't want to have to mess with a band or any backing tracks.
There are also some "band" jams to work on your picking technique and learn classic blues riffs like this one...
And everyone has to learn something about Mary and her Little Lamb 😉
But I would be doing you a disservice if I didn't also prepare to play any other style of music as well. We all love to be able to play a classic sing-along type of song...
And while there aren't many things that scare a guitar player more than barre chords... I promise you they aren't nearly as difficult as they are made out to be if you know how to approach them. We'll cover them extensively so that you know ALL of the chords you'll need for years to come.
Now, the Videos are a big part of the system, and obviously that's where the bulk of this great information comes from.
But the real "secret" to learning to play well is playing along with the included play-along tracks.
Every example that you'll learn on the Video is also written out in TAB and standard notation (so you don't even have to read music) in the manual, for reference. Plus, each example is on a play-along in 2 levels of difficulty.
In fact, you'll be able to play 17 different songs by the time you are finished... but more importantly you'll have the skills to learn thousands more, any time you want!
All you have to do is follow the steps:
Watch the video for the lesson (in fact, I recommend watching it without your guitar first, then watch it again with your guitar... I promise you'll notice something new every time you watch it.)
Set the loop points on the player in the member area for the example you are ready to play. Give yourself a few extra seconds on either end...
Watch me play the example, while following along in the manual, or with the on-screen notation. Make sure that you what you are seeing "jives" with what you are hearing. Even if you don't know how to read a single note of music or TAB, don't worry, we'll cover that in the course. And if you follow this step, you will get quite good at it before the course is over.
Try playing the example by yourself, following the notation in the manual. Make sure to count out loud, just as I do. You may not know why just yet, that's ok, just do what I do and it'll start to click soon enough.
Continue playing through the example until you have it memorized (most of them are quite short and won't take long, but some may take some time.)
Now try playing along with the slow speed play-along. Keep repeating this a few times each day until you can do it with maybe just two or three small mistakes...
Finally, play along with the Full Speed play-along. When you get to where you can play along with me, you've got it mastered.
But once you get to step 6, feel free to start on the next example, back at step 1. You can work on more than one example at a time as long as you follow the system.
So here's what I'd like you to do next…
All I'm asking you to do is say "maybe." Let me put it simply… I'm so confident in Beginning Blues Guitar that if you are not 100% completely satisfied with your investment today, I'll give you a full 90 days to send it back for a full refund, no questions asked.
Let me say that again, it's really important…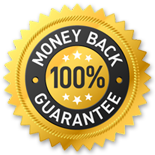 My Crazy 90 Day Guarantee
I'm never satisfied unless you are more than satisfied. So here's my simple "No Small Print" guarantee. Try Beginning Blues Guitar today and put it through the ringer. Use every strategy and technique as many times as you'd like for 3 full months.
You be the judge. If this program doesn't deliver everything I've promised, or if you're unhappy with it for any reason, just let me know and I'll immediately refund every penny, no questions asked.
I have no problem making this iron-clad guarantee because I've personally taught this method dozens of time so I know it works. Fair enough?
Oh... and you don't even have to send it back... how's that for reasonable?



"I'm Really Enjoying the Course…"

I got my copy of BBG. Thank you!

My original reason for wanting a copy of the course was so that I could help new members on the Forum with their course material as needed. I didn't think I needed it personally.

As I progress through the course, I'm finding it helpful in correcting some bad habits I've acquired and an excellent review of things that I do know! I'm really enjoying the course. This course is an excellent precursor to your Blues Guitar Unleashed. I can't thank you enough!


Chuck Fleming - Bloomington, IN
This is a serious course on learning to play the guitar. It works, and I've proven it time and time again. And not only will you get everything you need for playing blues guitar, there's quite a bit in there that applies to most other styles of music as well.
If you were to come to me fresh off the street and start taking lessons, you'd be looking at somewhere in the neighborhood of 6 months of private lessons to get this material.
At $50 per half hour, my current rate, It would cost somewhere in the neighborhood of $1200 in private lessons.
But, of course, that doesn't take into account driving to the lessons, arranging your schedule to make it every week, and keeping up with the practicing commitment. Shoot, at today's prices the gas alone could easily cost you an extra $156 or more.
So I want to make this a total "no-brainer" for you and offer it to you today for only $147 $117 $87.
That's all of the video lessons, the play along tracks, the complete manual with every single note written out in painstaking detail… a minimum of 6 months of private guitar lessons packed into Beginning Blues Guitar for just $87.
You simply login to your secure member portal once you complete your purchase and it's all right there for you, forever, there is no limit and you can come back any time, you can download it to your own computer - whatever you want to do, it's yours.
And if you'd like me to print out the manual or send you DVDs, I can do that do for the cost of the materials. If you choose to have the Manual or DVDs sent, you still get the digital version no matter what.
The Most Frequently Asked Questions:
Q.

Is this course good for a beginner?

A.YES! It is aimed at beginners. Many of my intermediate students have also benefitted from the course as they say it fills in holes in what they have learned so far.

Q.

Do I have to play electric guitar or does it work on acoustic?

A.The notes don't change… blues is blues. Everything I show in this course will work on an acoustic or electric guitar.

Q.

Is it hard to get a refund if I don't like it?

A.It's a cinch. You'll have my email address if you need to get in touch with me. All you do is let me know. I'll happily refund your money if it's not for you.

Q.

Is this all secure, I don't feel good about typing in my credit card information?

A.In today's world, you can't hardly get any more secure than my order page. It is tested daily to be hacker safe by McAfee, the industry leader.

Q.

How much do I need to practice?

A.20 minutes per day is a good place to start. Any less than that and you won't see the kind of progress you are looking for. You can get by on less, but you may get frustrated with the lack of improvement.

Q.

Will your DVDs work in my country?

A.I have students and customers all over the world. These are not region-specific and should work in most any DVD player or computer.

Q.

Do you ship to the UK, Australia, Africa, etc?

A.Yes. There are very few countries I cannot ship to.

Q.

How much is shipping outside the US?

A.Shipping charges are calculated automatically in the shopping cart once you enter your country and shipping method.



"It Really Is Fun!"




If you are new to guitar I wholeheartedly recommend this course. In plain language it takes you through the basics and in no time at all you will be getting to grips with chord progressions and riffs.




Most important of all – it really is fun!!




PS. You are never too young too start. I am 63 and had a guitar laying around unused for years pending retirement. Now I am getting the benefit!




- Chris Ball - Leigh On Sea, England
Reason Number One: You can learn blues guitar at your own pace, in the comfort of your own home. No driving to lessons or wasting time and gas money.
Reason Number Two: You can be having fun and surprising yourself, your friends, and your family even after just the first lesson
Reason Number Three: You have a full 90 days to "try" Beginning Blues Guitar. If at any time you are not completely satisfied, simply return the product for a full and prompt refund, no questions asked.
Reason Number Four: With such a limited quantity, they won't last long at this price. Get yours now or pay more later.
Reason Number Five: There's no time like the present. If you want to play blues guitar, you need some guidance to point you in the right direction. With Beginning Blues Guitar you get step-by-step, easy to follow directions. You simply cannot fail.
So here's what you do next…
Simply click the giant "Add To Cart" button below to get started learning blues guitar today, and choose your delivery method.
Your order is completely secure, and you have my personal 90 Day Satisfaction Guarantee. No guitar teacher anywhere can match that kind of promise.
As soon as you complete your order, you'll receive an email with login instructions to get started. You can be playing the blues in just a few minutes from right now!
To get your copy of Beginning Blues Guitar just click the yellow "Add To Cart" button below with your preferred delivery method. Within moments of your order being complete you will receive access instructions to the Member Portal via email. So you can be playing the blues in just a few minutes from right now!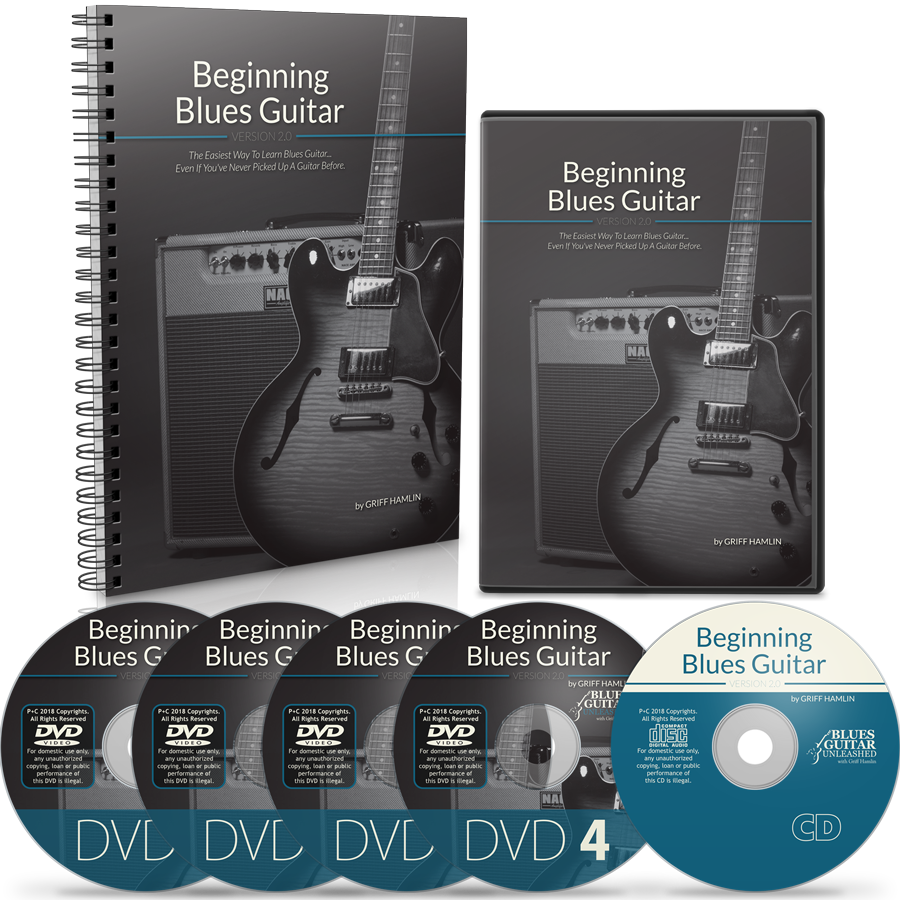 This is a one time payment, NOT a subscription. 3 Payment option is available on the next page.
P.S. - Many of the students who had a hand in the creation of Beginning Blues Guitar were exactly where you are today. The problems they faced and the information they needed is what drove me to put this all together in one package. You won't find a more complete guide to learning blues guitar anywhere.
P.P.S. - I personally guarantee your success, you have absolutely nothing to lose. You simply will not find a better way to learn to play blues guitar.



"Turning On The Headlights On A Dark Country Road."




Griff, I am truly enjoying the Beginners lessons. For awhile I felt like I was beating my head against the wall, or else just "stoopid".




When I finally sat down long enough to go thru the first few lessons, it was like turning on the headlights on a dark country road. Things are finally falling into place for me, and I truly appreciate your efforts.




I also strongly recommend this course to anyone who has the blues in their blood. it is GREAT!!!




- Jim Lowe - Blytheville, AK