"Play Blues Guitar More Confidently With These 5 Classic Blues Instrumentals…"
Playing these 5 blues songs, styled after some of the most famous instrumental blues songs on the planet, will give you the experience and confidence to learn any song more quickly… and they're a ton of fun!
Blues music is chock full of classic instrumental songs…
Freddie King's, "San-Ho-Zay," or "Albert's Shuffle," by Mike Bloomfield and Al Kooper, are every bit a part of blues history as songs like, "Sweet Home Chicago," or "Tin Pan Alley."
Now, if you're like me, the lyrics of a famous blues song are simply the placeholders between guitar solos…
And if I can play the melody and the solos, well then I'm in heaven!
If you're an intermediate guitar player, or maybe even an advanced beginner… then you can play some chords, the blues scale, and probably a handful of licks…
But that's a far cry from learning something like "Albert's Shuffle," with those rapid fire licks that can be difficult for even the most experienced blues players.
And that's why I've created a group of 5 songs, written in the style of some of the most famous blues instrumental songs throughout history, but playable – not just for a professional – but for you too…
Here's What I've Got For You…
5 Easy Blues Songs is a take off on my "5 Easy Solos," idea, which has been used by thousands of guitar players around the world to start soloing fast…
There is nothing faster than an eighth note (unless the tempo is really slow) and the rhythms are not complex, so as to make them difficult to follow.
However, with 5 Easy Blues Songs, you'll get a complete rhythm guitar part, a complete lead guitar part, and complete jam tracks to play with…
You can play either part by yourself, and the let the track play the other part, or you could play with a friend and each pick a part.
As much as I love teaching guitar, and especially blues, there is one scenario that always make me cringe…
And that is when a beginning student asks to learn a song that is light-years beyond their ability.
It's disheartening for them, and it gives the impression that they won't see any sort of success any time soon…
...and I just hate to see that kind of disappointment.
You see, what makes a song difficult probably isn't what you think…
It doesn't have nearly as much to do with fast fingers… in fact, many "easy" songs are at a fairly fast tempo…
Instead, it has a lot more to do with the rhythmic complexity of the phrases in the song… if they are fairly straightforward, a student can still count them out and slow them down as needed to learn the fingerings required…
But if the song has a lot of complex rhythms (or, in the case of something like, "Red House," almost no rhythms to many of the licks,) then it's almost impossible for a less experienced blues player's ear to latch on to what is happening.
Here Are Some Of The Things You'll Be Getting…
For most beginning and intermediate guitar players… nothing brings success like a little success…
When you get the rush of being able to actually play something that sounds like a "real song"…
It's remarkably satisfying…
And it will make you want to seek out the next thing.
That next thing might be more of the same, or it might be different…
It really doesn't matter either way, because every time you learn a new song, a new lick, or a new approach or idea…
You gain experience…
And I always say that experience is the best teacher… my job is just to lead you through the experiences you need in the right order.
So here are just some of the things you'll get with 5 Easy Blues Songs:
My complete Encyclopedia of Scale Patterns, including all the 'boxes' of the Minor Pentatonic, Major Pentatonic, Minor and Major Blues, Pentatonic 6, 4 Note Solo Pattern, House Pattern, BB King Box, and more…
Jam Tracks with no guitar, just the rhythm guitar, and just the lead guitar, as well as a version with both guitars so you can play along any way you want.
Video breakdowns of every note in the rhythm and the lead guitar parts so you'll never wonder what note I'm playing… or why.
5 complete songs, rhythm and lead parts, in straight, swing, and slow blues feels. There's plenty of variety so you'll have plenty more licks and ideas going forward.
Complete TAB, both on-screen and in the manual, for all of the parts to all of the songs.
But if you happen to also have my 5 Easy Blues Solos, or my Blues Guitar Unleashed course, you'll find that you can "borrow" licks, solos, or rhythms from those courses and use them here… and vice versa.
When you get to where you are combining elements you know from other places, with the elements in 5 Easy Blues Songs, you'll know that you are truly beginning to understand how to play the blues.
So Here's What To Do Next
5 Easy Blues Songs is just $97 and you can get it instantly as a digital download or stream it from your own private Member Portal on your computer or mobile device (as long as you have an internet connection.) It never goes away and you can access it any time.
Also, if you prefer to have me print out the manual I can do that for you, and there is an option for DVDs and CDs if you want.
You can have the course however you prefer, just click the "Add To Cart" button that fits your style, and complete the secure checkout to get your copy today.
Pretty much.. that's about it.
As always, you get my iron-clad, 90 day guarantee. If you don't love 5 Easy Blues Songs, just let my friendly helpdesk know and you'll get a complete refund, no questions asked – and you don't even have to send it back.
My private students that have gone through some of this training have paid me upwards of $1000 or more for this information and done so willingly, and they don't even get a money-back guarantee!
So to get this complete course, all 5 hours of video, complete TABs, audio playalongs, jam tracks, for $97 is kind of a no-brainer.
There's no catch, no hidden continuity thing, and no shenanigans to be found. The order form is secure and you can rest assured that your privacy and data are safe. You've got absolutely nothing to lose…
Putting this off until "someday" is just putting off success that much longer, and there's no reason for that. If you really want to make improvements now, you have to act now, it's that simple.
And with my 90 day no-questions-asked-you-don't-even-have-to-send-it-back guarantee, this is the perfect chance to really up your blues playing and finally get some solid songs under your belt.
So click the "Add To Cart" button below that fits your style (digital, digital with printed manual, or digital with the printed manual and the DVDs and CD.)
To get your complete copy of 5 Easy Blues Songs just click the yellow "Add To Cart" button below with your preferred delivery method. Just as soon as your order is complete you will receive an email with your access instructions to the secure Member Portal so you can be creating exciting new blues solos in just a few minutes from now!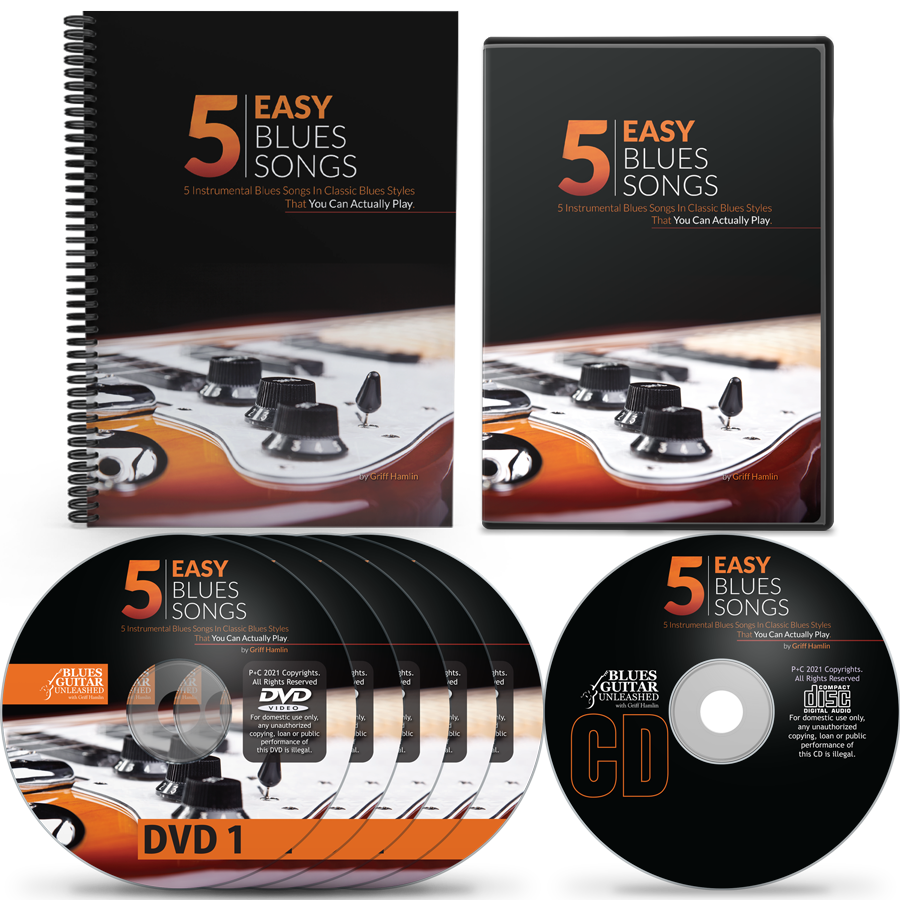 This is a one time payment, NOT a subscription. 3 Payment option is available on the next page.
PS – In case you thought, "Oh, I'll just scroll down to the bottom and get the scoop," let me hip you to it…
I'm offering you a great chance to try my new 5 Easy Blues Songs course, where you can learn 5 instrumental blues songs, both rhythm and lead, in the styles of some of the most famous blues instrumentals in history…
Of course, there is complete video walkthroughs of every note, every idea, and every riff so that you'll understand how and why everything is played.
Plus all of the TAB is both on-screen and in the manual.
It's about 7 hours of video, in total, along with jam tracks that have no guitar, just the rhythm guitar, just the lead guitar, or both guitars. You can practice however you want.
You can get it all for just $97, with my iron-clad 90 day guarantee. You love it or you get a refund, and you don't even have to send it back.
Sound good? Great! Then get yours here.