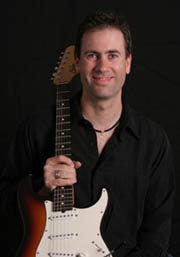 Dear Friend,
Have you ever tried to get some friends together to jam or practice with?
It's a nightmare!
By the time you've coordinated everyone's schedule, picked a time, found a place, loaded up the car… it's just not worth it.
But let's face it, you need to practice and improve your chops, your timing, and your feel… and for that you need a band.
So if you're like me, you may have gone online and searched for "blues jam tracks" or "free jam tracks" on Google.
But have you ever listened to those "tracks?" What instruments are those anyway?
Those "tracks," my friend, are the sound of a computer playing the blues… not pretty.
And definitely not something that's going to inspire you to pull out your best stuff.
And just like you, I've had this problem for years… as long as I've been teaching guitar (over 23 years now.)
The only real option has always been to go into a studio with musicians and fork over big money to get some tracks made.
Fortunately things have changed because of technology. A home studio can be made out of just about any home PC. But you still need to get musicians to lay down the grooves for you.
A Late Night Discovery Changed Everything…
A little over a year ago, I was on another one of my late night "googling" sessions looking for something…
I don't even remember what it was now, I didn't find it. But in the process I stumbled on the mother lode of jam tracks…
They were all professionally done, in a good studio, as a school project of all things!
The musicians were all music students at the college. They had done the tracks as a project funded by the University of Iowa Research Experiences for Undergraduates program. And they were absolutely free!
I couldn't believe my luck… I hit that download button so fast…
…and I waited…
Yes, they were great tracks, and yes they were free. But they turned out to be really hard to get.
First, they were in an awkward, uncompressed format typically used on Macs (and I'm a PC 🙂
Second, they were just on some guy's website. His server was probably swamped because the files were so big.
Third, they would come and go. Right now, in fact, you can't get the files from his website. They simply aren't there. I haven't seen them in months.
And there were a few other things about the tracks I really didn't like…
The track names made no sense. They are just kind of random and don't tell you anything about what the track will sound like. No key, no feel, zilch… nada.
The AIFF format is a pain. Each file is about 10 times the size of a regular MP3 file (like you use on your ipod.) I spent hours looking for a program that would work with that format.
There were so many duplicates with different names. I only needed one "Slow Blues in G" and there were about 4 of them.
There was no chart, music, TAB, or anything written about any of the tunes. Some of them had these really cool rhythm parts in them. I could figure them out, but my students would take the tracks home to practice, and come back asking me how to play the rhythm licks.
After months of trying to make them work, I realized that if I was ever going to get the full potential out of these tracks, it was going to take some work on my part…
First, I organized the tracks. I removed the duplicates and chose the best sounding ones.
Next, I transcribed all of the cool rhythm parts in TAB and standard notation.
Third, I put them on CDs. This makes them easier to work with than the previous format.
Finally, I added my personal notes for each track. What scales would work best… soloing and improvising tips… and what skills the track is best suited for.
And what I ended up with is 29 Blues Jam Tracks.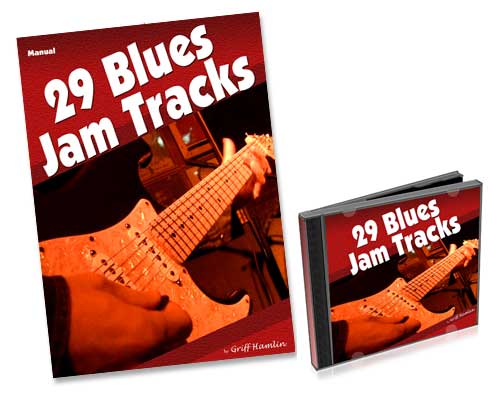 The 29 tracks fit perfectly on 2 CDs and the track listings fit right on the CD labels for quick reference.
But the best part is in the 105 page manual that comes with those CDs.
In it you'll find all the TABs, and all of my notes about how to solo over each tune… information you simply cannot get anywhere else.
Some Examples Of What's Inside…
Here's an example: this is "Midtempo Straight Blues In A" (Click here to see the manual for this one in a new window)

Here's a PDF example of what is in the manual for this track. If it doesn't open for you, try right-clicking on it and choose "Save Link As…" to download it to your computer.
Or how about this one – "Mambo Blues in B" (Click here to see the manual for this one in a new window)


And of course, you have to have a slow blues… how about the key of D for this one (there's also one in A, E, F, and G.)


Nearly every style of blues is represented in this set:
Funk Blues
Swing Blues
Shuffle Blues
Chicago Style Blues
Rock Blues
Fast Swing
Midtempo Blues
Blues Mambo
Organ Shuffle
Straight Feel Blues
Slow Blues
Uptempo Blues
And there are examples in every common key.
Now if you've been living in a cave while you've learned the guitar, you may not be aware of the huge benefits of practicing with a good band or over good jam tracks:
You can get better feel and groove playing with a band. This is the main thing that separates good players from just "ok" players.
You can to try out new ideas and gain valuable experience even if your buddies aren't around to jam. Making mistakes is part of the journey, but it's better to do it when no one's around to hear 😉
You get to choose what type of song you want to play. You can play the same thing over and over and over again until you get it down. Try talking your buddies into playing the same tune 20 times in a row!
You get to learn riffs and rhythm patterns that you can use over thousands of tunes, not just the ones in the pack. Blues riffs are very much like puzzle pieces. You choose a key, choose a feel, and choose a riff. Put it all together and you have an instant blues tune.
You will improve your lead chops which will make your lead playing even better when you do get in front of people. I don't want to sound like a hack on stage and I suspect you don't either.
You can increase your confidence when playing lead and rhythm guitar. And confidence is not only what is going to get you into a band… it's what will keep you there because you'll own it when you play your solo.
You'll have more fun because you're playing with a band. And that means you'll play longer which means you'll get better, faster.
You'll gain better timing and rhythm because the band is consistent. Not that I want to put down your friends or relatives… but it's tough to find guys that can really play. And dealing with a drummer who is dropping beats like they are hot potatoes doesn't do you any favors.
You can learn to create your own licks better. Creating licks is all about getting the notes you want into the beats that are available. Without having the structure of the band, you're flying blind.
You'll learn to incorporate licks you learn into other tunes and settings. You can take licks you've learned in other and put them to use over these tracks. It just keeps making your "bag of tricks" that much bigger.
How Can You Know If These Tracks Are Right For You?
If you can't play lead guitar at all yet, you may not be ready for these tracks.
There are plenty of places and courses out there that can teach you the scales and the technique. So there's none of that going on in this package.
But if you play lead guitar at all, and you want to play the blues, then these tracks are definitely for you. I honestly can't think of anyone who these wouldn't benefit (unless you are independently wealthy and have a staff of musicians
on-call 24/7 I guess…)
What Makes These Tracks Different?
I know there are other jam tracks packs out there. I've bought many of them. That's one of the big reasons I had to put this pack together.
Here are 3 important reasons why 29 Blues Jam Tracks is different...
Reason #1 – These sound really good. They were recorded by live people in a good studio.
I can't emphasize enough how much better it is to play with a good sounding band. Those computer generated tracks just don't feel good when you play with them.
Sure, they'll do the job for a day or two, but they just don't inspire you to do your best.
Reason #2 – They are completely transcribed and notated.
I have yet to find any other jam tracks that come with such complete notation and TABs. You'll know exactly what the chords are, how to play the cool rhythm riffs and fills, and what scales you can use.
Reason #3 – These are guaranteed.
The last time I was at a music store and bought a CD full of jam tracks, I couldn't believe how lousy they were when I got them home.
But can I take them back? No. It's against copyright laws or some such nonsense.
It makes my blood boil… I got taken for a ride and there's nothing I can do about it now. Those big publishers just get to put out whatever they want and if you buy it, you're stuck with it… that's insane.
That's not happening here. I offer the same guarantee that I offer on all of my high-end guitar learning courses… 90 days.
My Crazy 90 Day Guarantee
I'm never satisfied unless you are
more than satisfied
. So here's my simple "No Small Print" guarantee. Try 29 Jam Tracks today and use it as often as you can for 12 full months.
You be the judge... If these tracks are not everything I've promised, or if you're unhappy with it for any reason, just return it and I'll immediately refund every penny, no questions asked.
You don't even have to send it back, just contact us and we'll take care of it quickly and easily.
So what does that mean to you?
Simple…
If for any reason you are not 100% satisfied with the 29 Blues Jam Tracks package, just send an email to the helpdesk, and we'll refund your money within 90 days from the date you bought it.
And you don't even have to send it back. Just let me know, and I'll refund your money. That's how confident I am that you're going to love these tracks.
So Let's Wrap This Up…
You'll get the 29 Blues Jam Tracks on 2 CDs, and with the 105 page manual that includes all of the TABs and charts, plus the soloing tips and notes.
If you're not 100% happy with it within 90 days, just send me an email and you get a refund… you don't even have to send it back. Who knows, maybe you have a friend who can use it 🙂
And you get all this for less than a bar tab… just $29. It's a total no-brainer.
So Here's What To Do Next…
Just click the "Add to Cart" button below and you'll be directed to a totally secure server where you can get your copy of 29 Blues Jam Tracks.
If you prefer, you can also call us toll free at 866-531-4741 to place your order over the phone.
Yes, - Please send me my copy of 29 Blues Jam Tracks for just $97.00 $47.00 $29. I understand that I'll receive the 29 Blues Jam Tracks on 2 CDs, and the 105 page downloadable manual with all of the charts and TAB.
I also understand that if for any reason I'm not satisfied with the tracks I can get a full and complete refund anytime within 90 days from today... and I don't even have to send the stuff back to you.
Click Here Or The Button Below To Get The DVD Version Of The 29 Blues Jam Tracks $29
Click Here Or The Button Below To Get The Digital Delivery Version Of The 29 Blues Jam Tracks For $19
All orders are processed using SSL encryption processing so your order details are completely safe. Payment Gateway handled by Authorize.net, the leader in online transaction processing.
To order by phone call toll free 866-531-4741
International orders please call 636-736-4650
If you're looking to play better blues, you simply must have some good quality jam tracks to work with.
I've done the research. I've spent hundreds – if not thousands of dollars on other jam track packs. These are the best ones I've found and it's only by dumb luck that I'm even able to share them with you.
There's nowhere else you'll find tracks of this quality, with all the TABs and instructional notes, guaranteed for 90 days.
Look at it this way, if you do nothing, how will your playing improve next week?
How will it improve the week after that?
How many times are you going to be able to get your buddies together and jam?
How many of those "A-Ha!" moments do you think you'll have at home playing alone?
You have nothing to risk, and a huge potential upside.
So go ahead and get your copy of 29 Blues Jam Tracks today.
All the best in the blues,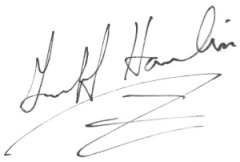 PS – This offer is limited. I was able to get a great price on the manufacturing and printing of these sets. When they are gone, they may return, but likely at a higher price. So get your copy today.