As a guitar player we are often faced with "charts…" Either we're reading them to know how a song goes, or we're writing them in hopes of sharing a song with a band or a friend or a group.
Now, growing up in the before-times (before the internet) and hanging around jazz musicians, charts were an everyday occurrence in "The Real Book," which is basically the bible of all tunes jazz (or, at least it used to be… I suspect nothing has really changed except that it's now found in an app.)
The main thing you have to remember about a chart, as opposed to sheet music, is that a chart is NOT going to explain how a specific recording of a song is played. It is not a transcription, it is simply the melody, and the chords, to a song. No more, no less.
(In fact, sheet music is not a transcription either. Sheet music is, in general, more verbose than a chart, but it is still not the act of listening to a specific recording and writing down (transcribing) what is actually played by the guitar player.)
What we commonly call "TABs" today are sometimes like a lead sheet (and usually not even that much) and sometimes more like a transcription… depending on the source.
Sometimes you'll also hear a chart called a "leadsheet" or even a "fakebook arrangement" of a song. It allows a band to "fake" their way through the song without having to have heard it before.
It contains the 3 fundamental aspects of a song – the chords, the feel, and the melody… again, nothing more and nothing less.
Now, if you're the player, how well you can get through a chart like the image above is simply about how well you know your chords, how well you can make up some sort of rhythm figure on the fly, and (if you have the melody) how well you can read the melody.
For a jazz combo (and I've done a LOT of those over the years) it's typical that all I have to do is play the chords and let either the piano or a horn take the melody. Every once in a while I'll take a melody or we'll pass it around – it depends a lot on the group. Once we've played the whole chart through (the melody is called the head) then we go back to the top and play solos until everyone who wants to solo is done (or the client has fired us for noodling too much) and then we play the head again and end the tune with either whatever ending is written, a tag, or a standard ending.
Your approach to a chart is also going to have a lot to do with your familiarity with the tune being played. If you know the most popular recording of this tune and you've heard it many times, you'll likely have no trouble getting pretty close to the recording because you know the general feel and style of the original recording.
But let's turn it around – what if you want to make a chart for a group (or maybe just you and a friend,) how much do you need on it?
Well, first, let's talk about the lyrics, because a lot of "charts" I see these days look like this:
And… let's be really clear about something… this is useless to anyone unless they are VERY familiar with the song.
But if you intend for this to go to someone who has never played the song before, you're asking for trouble. There is no sense of rhythm or time, and there are no barlines or anything to give any guitar player any indication of how long to play any given chord.
The especially "trainwreck-y" parts will be the chord changes all scrunched together at the end of a line because there are no words under them as they are typically instrumental. It's total guessing game for any guitar player, bass player, drummer, keyboard player, etc.
This is a fine example of something I would use (and do often) to remind myself of a song I've played many times before, but probably haven't played recently. I might forget some lyrics and I might forget a chord or 2, so this acts as a prompter, if nothing else.
So it's not useless, by any means, but it's probably not as useful to someone else as it would be to the person writing it.
Another type of chart, or really more of a transcription, that I see lately looks like this:
This is intended to be a transcription – in other words this is EXACTLY what was played. The problem is, it's not doing a very good job of telling me what's going on because there is no rhythm.
It's telling me the notes using TAB, but I don't know what notes are 1/8th notes, what are 1/16th notes, if it's in 4/4 time or 12/8 time – none of that is there.
So again, it assumes I know very well what this is supposed to sound like, and that I have good enough inner time to make it sound that way.
For most people I encounter, that's a BIG assumption and if you're trying to learn songs from this sort of TAB… and it doesn't sound right, that may be why (aside from the fact that the person who wrote it may not play as well as you do and it's likely incorrect.)
So let's look at something that might be more useful… here's a chart I made for a rhythm section (bass, drums, keyboards) assuming that someone else (maybe me, maybe someone who knows the song) is singing – so there is no melody:
But you can see that I have some important things:
The chords are listed, and arranged on measures so that anyone following along will make the changes at the right time.
No rhythm or tempo is given, I'm assuming the band is familiar with the tune. If they were not I'd put something like "Moderate Mellow Rock" or something at the top left to indicate a feel and tempo. I could even go so far as to notate a metronome marking (quarter = 90, for example.)
I've noted that "guitar only" starts the tune, and I've noted where "band in" begins.
I've noted that the ending is a "repeat and fade," so that means we'll have to work something out and whomever is leading the band at that time will have to indicate an ending (which is usually just a slight ritard and hit on the downbeat at the beginning of a repeat.)
There are whole notes to indicate areas where a chord is held – this will help drums and bass know not to play through those measures.
Now sometimes charts are general charts, like you just saw… but if you want a musician to play something a certain way, you will probably have to have something that is very specific – approaching sheet music quality like this: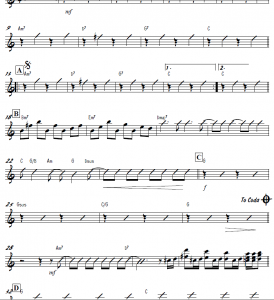 This leaves a whole lot less to the imagination, and some charts can be even more specific. It all depends on what you can expect from your musicians – can they read it? And will they be familiar with it already?
Making Charts –
There are several options for making charts…
My favorite is still good old pencil and (staff) paper. You can download free staff paper (or TAB or whatever) from blanksheetmusic.net and get to work. Most charts I do are done this way because it's simply the fastest way for me.
But software tools are getting more plentiful and easier to use (meaning, more like writing things out by hand…)
Typically I use Sibelius because that's what I use for all of my books and courses, so I'm used to it and can move around fairly quickly. However, it's WAY overkill for just charts and, because of that, can be a bit cumbersome for something so simple.
I've recently discovered an app for my iPad called Notion and I did the "Melissa" chart above with that in about 20 minutes. It has handwriting recognition for the notes, but not for the chord symbols, so that was a little disappointing as the process for entering the chord symbols was a bit tedious. Overall, however, at first glance it's been working pretty well.
There are also less expensive options for your computer like Guitar Pro, TablEdit (linux), and Notion for a PC. Many DAW (Digital Audio Workstations) also have notation features built in, but they vary quite a bit.
The bottom line is this – your workflow and what is comfortable to you is the big key. If you have to spend a lot of time learning and futzing with software, you'll forget what you're doing with the chart and it's SUPER frustrating. Even when I use software to make a chart nice, I usually do a sloppy copy on paper so that when I'm using the software I don't have to think about the music – I can't think about how to use the software and the music at the same time. I'll copy the music into the software or app, not write the music in the software.
So the next time you need to convey your musical message, you'll know how to consider the needs of your musicians and get them what they'll need that is both useful to them, and gives you what you expect to hear.
Likewise, if you're the musician and the "chart" in front of you doesn't seem to be working to get the sound that is expected, hopefully you'll now have a better idea as to why.